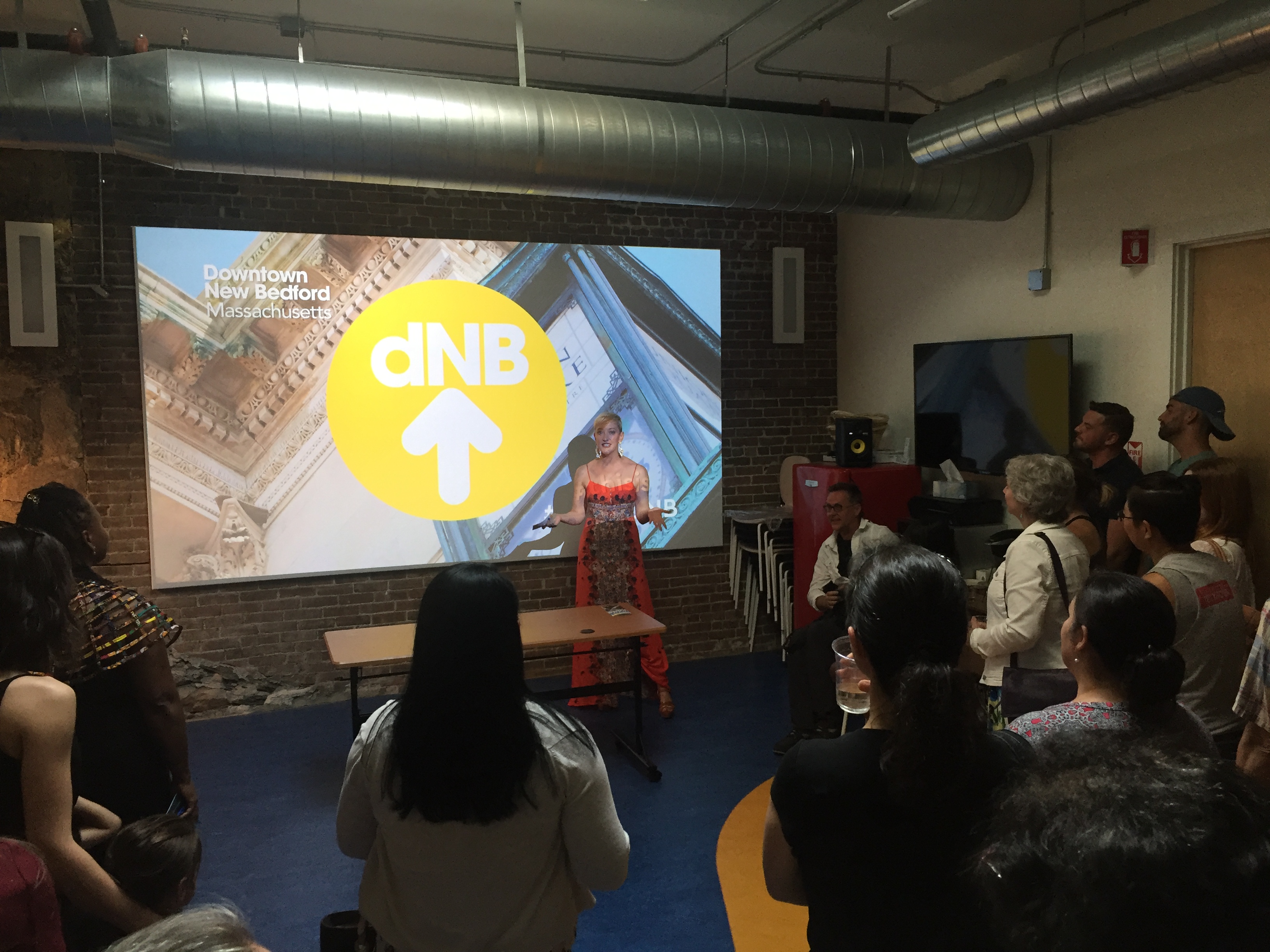 Over 50 people packed the screening room of the Co-Creative Center on Tuesday, July 9 to see the world premiere of five new videos highlighting the charm, attractions and energy of this historic and revitalized seaport downtown.
The series of vids, #thisisDNB, each speak to a hashtag used by the organization Downtown New Bedford, Inc. to highlight the vibrant commercial and cultural center of New Bedford, Massachusetts.
For example, the first vid is entitled #exploreDNB and traces its evolution from the whaling capital of the world in the 1800s through the 1900s when it became the nation's most valuable fishing port to the arts and culture hub it is today.
That journey lasts a fun and funky minute in the video – a slick distillation of centuries that grabs your attention in a vignette story told through the eyes of one of three community members of New Bedford's downtown.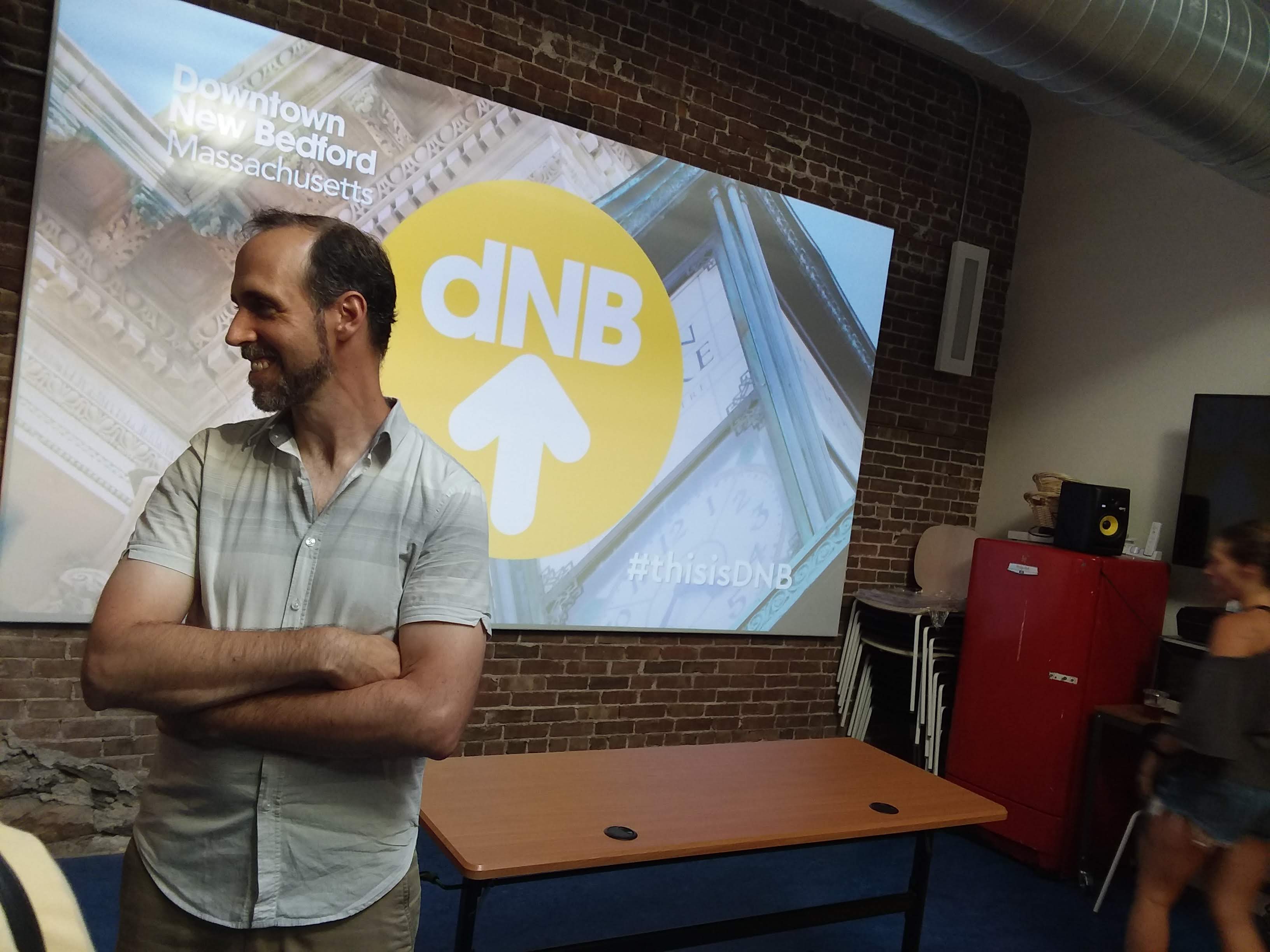 The stunning images concisely cut and spliced were shot over a period of many months by city filmmaker Don Burton. The former Los Angeles-based artist, editor and producer returned several years ago to the region – and found ample material to train his lens upon, for the #thisisDNB video series.
The reviews came in immediately after the premiere screening – and they were all raves. Downtown New Bedford, Inc. Board President Elissa Paquette was happy to hear people express the idea that they could step right outside the door of the Co-Creative Center on Union Street and feel as if they were on vacation after watching the videos.
For her, guiding the #thisisDNB project to completion has defined her tenure as president of dNB Inc. thus far. She assumed the role in November, 2018 after previously serving as chair of the Marketing Committee for the previous two years. The owner of Calico, a chic and trendy womenswear boutique also on Union Street, Paquette is also stars in one video and is featured in others.
She says, "Even though working on this took a lot of effort, it was so much fun working with Don! We literally laughed the entire time!"
"I hope that #thisisDNB makes our community feel proud and excited," she continues, "and I hope it makes someone who's never been here before inspired to check out DNB!"
"We shot 57 days in total since September 2018," Filmmaker Burton says. Three of those days were interviews with the subjects of each video vignette. Others were spent attending countless special events or cultural happenings which routinely take place in downtown New Bedford. Fun days were spent shooting while shopping or eating such local fare as burritos, fresh clams and…turnips!?(Watch to find out how turnips made it onto the menu!)
The #thisisDNB video series is best enjoyed as the crowd at the premiere viewed them – in a spirit of community, laughter and surprise at how the snap series of images flickering past present a new view of a familiar city for the next century.
The videos will be posted over several weeks on the Downtown New Bedford, Inc. Facebook page (facebook.com/dnbinc) and Instagram (@dnbinc) before being added to its website, downtownnb.org.
Downtown New Bedford, Inc., popularly known as dNB Inc, is dedicated to spreading the word about the renewal of New Bedford's hip, historic downtown. The all-volunteer, non-profit group's mission is to bring more people downtown to shop, dine and enjoy all this community has to offer. The video series is designed to broadcast that mission to residents and visitors alike.
Newcomers will discover hundreds of quick shots to pique their interest in downtown New Bedford. For city residents, it will underscore that their downtown is a destination spot for vacationers – one they get to enjoy year-round.
Don Burton says post-production on the videos took about seven weeks in total spread out over four months. Seven weeks pared down to five fabulous minutes in five videos which will carry downtown New Bedford across all digital platforms.
Now that's binge-worthy.
Again, follow Downtown New Bedford, Inc. at facebook.com/dNBinc to watch the roll-out over the next several weeks. Be sure to follow on Instagram, too at dNBinc. And remember to share your own love with the hashtag, #thisisDNB.