DUE TO INCLEMENT WEATHER FORECASTS, dNB's HOLIDAY STROLL (originally scheduled for Dec 3rd) HAS BEEN POSTPONED TO OUR RAINDATE: SATURDAY, DECEMBER 10th, 12-5PM! THE CITY'S HOLIDAY PARADE & TREE LIGHTING ARE ALSO POSTPONED TO DEC 10th AT 5PM!
PLEASE SEE BELOW FOR UP-TO-DATE DETAILS!
Downtown New Bedford Inc is excited to announce the return of dNB Holiday Stroll! Events are scheduled from 12pm-5pm on Saturday, December 10th. With the support of NB Creative, the City of New Bedford and the New Bedford Local Cultural Council, Downtown New Bedford Inc is ready to kick off the holiday season with this much-loved annual event!
Strollers will be met with the sounds of the Seaglass Theater Company Carolers and the Southcoast Brass Band while walking the historic cobblestone streets of downtown New Bedford. Be sure to keep an eye out for the Winter Fairy–and of course, Santa Claus! Take in the sights of downtown with antique fire truck rides provided by the New Bedford Fire Museum and be sure to support local at the numerous shops, restaurants and galleries.
"Holiday Stroll is a great opportunity to support downtown's small businesses, as well as local artists and artisans," says Elissa Paquette, owner of Calico on Union Street and President of local non-profit, Downtown New Bedford Inc. Calico will be hosting a "Mini Makers' Market" featuring local designers, artists, and crafters. The market will be located at the Bristol Building, in the spacious common area, adjoining businesses Calico, Hewn, The Greenbean, 1st Edition Collectibles, and dNB Craft Kitchen. Calico has invited several local vendors, as well as DJ Anj Kepenski to fill the space with a festive holiday vibe.  "I love the concept of using our common area as a platform for creative local vendors who don't have a permanent retail location," says Paquette. "It's great exposure for them, as well as an innovative way to increase foot traffic to our existing business. Last year, Bristol Hall hosted BuyBlackNB's holiday market, which was a great success!"
This year, the Buy Black NB Holiday Market will be located at The New Bedford Whaling Museum. Justina Perry is the founder and director of local non-profit, Buy Black NB, a free community platform dedicated to discovering, highlighting and promoting Black-owned businesses in the South Coast of Massachusetts.. "We've been able to double the number of vendors for this year's market," says Perry.
"The Stroll is the most impactful event of the year to our local small businesses. Downtown is lucky to have a loyal following that comes out year after year to show support and it really sets the tone for the rest of the season" says Katherine Lowe, owner of Shimmer Clean & Ethical Beauty on Union Street. "I'm also really proud of the efforts so many of our small businesses are making to give back." Lowe says Shimmer will be accepting pet supply donations for Lighthouse Animal Shelter, while dNB Inc has partnered with the Starchasers to collect non-perishables for TakeBackNB and the Southcoast LGBTQ+ Network at three drop spots throughout dNB–just look for the blue bins at the Whaling Museum, Bristol Hall, and CoCreative Center!
This year's event has an extensive list of programming. Play Arcade is hosting celebrity puppeteer and muppet designer, Bill Diamond, and a variety of kids' arts & crafts are happening at the New Bedford Art Museum, Bristol CC, and the New Bedford Public Library to name a few! Strollers will also find sales, pop-up shops, and food and drink offered at businesses throughout dNB.
It wouldn't be the Holiday Stroll without the tree lighting at City Hall! Stop by William Street at 5PM to listen to Mayor Jon Mitchell address the crowd and watch as the city tree shines bright once again!
Help spread the word on social media and tag @dnbinc in your #strolldNB posts on Instagram & Facebook! RSVP and share our Facebook event here: https://fb.me/e/2W6ps3San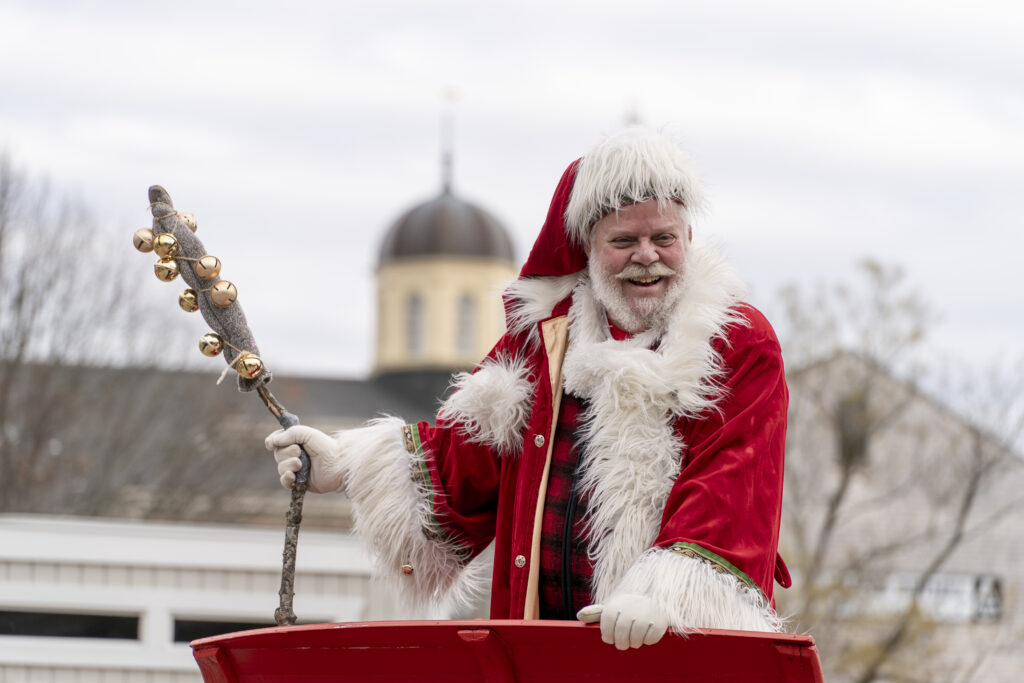 Downtown New Bedford Inc is a 100% volunteer-run organization that provides marketing, place-making and advocacy for downtown's stakeholders. Our mission is to bring more people downtown every day to shop, eat, and explore all that our community has to offer!
Help us make more events like Holiday Stroll happen by supporting dNB Inc with a donation today!
CVPA UMass Dartmouth12-5On view: Dana Sherwood: Some Kind of Tea Party or Thereabouts in the Realm of Madness at the University Art Gallery 🎨
dNB Holiday Stroll 2022 – What's Happening!

Location

Time

What's Happening

In & Around Custom House Park
12-5
Santa, Antique Fire Truck Rides, Southcoast Brass Band, The Winter Fairy
In & around dNB
12-5
The Starchasers Fleet, Seaglass Carolers
Shimmer
12-5
Clean Beauty Gift Box Raffle when you shop!
New Bedford Historical Society
12-2
Holiday Open House at the Nathan & Polly Johnson House 🎄
New Bedford Fishing Heritage Center
12-5
Story time with Salty Santa & ornament craft project for kids! 🎨
New Bedford Art Museum/ArtWorks!
12-5
Holiday coloring table! 🖍
Union Flats
12-5+
Opening Early with Holiday cocktails & $1 oysters til 5
New Bedford Hotel
1-4
Kid's Holiday movies, hot cocoa with marshmellows, and cookie decorating 🍪
New Bedford Free Public Library
12-5
Holiday book collection & kids' crafts! 📚🖍
Buzzards' Bay Coalition
1-4
Warm mulled cider & ornament craft project ☕️🖍
AprilEvans Beauty Lounge
12-5
Hot cocoa & cider bar. Gift baskets, grab bags, and good vibes! ☕️🛍
Cultivator Shoals
2-5+
Opening early with a full holiday menu featuring boozy hot chocolate & house-made donuts! Gift card raffle!

YWCA
1-5

1-5 Vendor market with food, crafts, and flower arrangement workshop!

☕️🛍💐
Celia's Boutique
12-5
Spirits & Sweets while you shop! 10% off purchases of $150+ 🍫🍷🛍
New Bedford YMCA
12-5
Kids' craft & hot cocoa! ☕️🖍
The Baker – New Bedford
12-2
Free Hot Chocolate Bar ☕️
National Park Visitors' Center
2nd Floor MakerSpace
2-4
Craft project with artist in residence, Margo Connolly-Masson 🖍🎨
Gallery X
12-5
On view: Annual Gallery X-Mas exhibition and NBHS student artwork. 3D paper ornament craft project for kid's AND grown-ups! 🖍🎨
Co-Creative Center
🍔 Food Drive Drop Spot
12-5
CoCreative Members' Market featuring @theartisannb, @_house_of_mae, and Little Seer Shell & Studio 🎨
Alison Wells Fine Art Studio & Gallery
12-5
Holiday craft table for all ages to be creative and spread Holiday cheer! 🖍
New Bedford Whaling Museum Food Drive
🍔 Food Drive Drop Spot
12-4:30
BuyBlackNB Holiday Market 🛍
The Pour Farm Tavern
12-5+
Beer Flights; Food & Drink Specials; Spiked Holiday Hot Cocoa ☕️🍻
Bristol Community College Lower Level of 800 Purchase Street Room 25
12-2
Letters to Santa, Ornament Crafts, and Hot Chocolate and Cookies 💌🖍🍪
Calico / Bristol Hall
🍔 Food Drive Drop Spot
12-5
Calico Makers' Mini Market in Bristol Hall with DJ Anj Kepinski 🛍🎶
TL6 The Gallery
12-5
Handmade holiday ornaments & free gift wrapping! 🎄🎁
The Found Treasures Home Decor
12-5
Cookies, drinks & gift with purchase! 🍪🍷🛍
Cork Wine & Tapas
12-5+
Wine tasting, giftcard giveaways, Hot chocolate, holiday drink & food specials, and DJ Pat Long 2-6 🍷☕️🎶
be jeweled
12-5
Shop the new Fortenna jewelry collection, designed and created by local jewelry artist  Anne Nichelson; 15% off all costume jewelry 💎🛍
William Street, from N. Water to Pleasant
4:30
The City of New Bedford's Holiday Parade 🎺🎅🏽

City Hall / New Bedford Public Library
5 PM
City Tree Lighting 🎄

Vaccination Connect
560 Pleasant Street

12-5
FREE COVID Vaccines 😷

Local Food Drive!
12-5
Look for the blue bins to drop off non-perishable food items to benefit TakeBackNB's Community Fridge & the Southcoast LGBTQ+ Network 🫶