GREAT NEWS FOR DOWNTOWN NEW BEDFORD, INC. MEMBERS AND FRIENDS
DNB, Inc. has accepted a generous offer from the
New Bedford Area Chamber of Commerce to house our operations.

DNB, Inc. will be moving into the Chamber at 794 Purchase Street
during the month of June and will be fully operational for July 1.

Please excuse any inconvenience in connecting with the office during this time.
We are working toward a smooth transition.
Feel free to leave messages via e-mail at dnb@downtownnb.org.
Thank you, Diane
---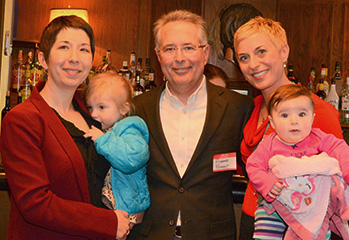 Richard Poyant, President - Poyant Signs, Inc. - Poyant Sign Company was incorporated in the 1950's. As a family owned company Richard has grown up in the business. He became President in 2000. Richard has been a strong supporter of all DNB, Inc. programs for the past 10 years. He has chaired the Events Committee and provided immeasurable time, energy and services for both the Taste of SouthCoast and NB Seaport Chowder Festival. Richard has served as Vice President of the Board of Directors, and Chair of the Events Committee. Richard currently serves on the Board of Directors for the International Sign Association, is a volunteer for Habitat for Humanity. Has served on the Vestry at St. Gabriel's Church in Marion and as past Campaign Chair for the United Way of Greater New Bedford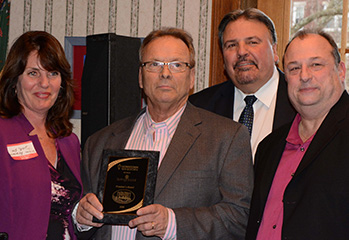 Michael Barry, President - Pier Fish Company started in Boston and has been in business for over 100 years. In June of 2001 Pier Fish Company purchased and opened its 50,000 square foot processing facility in New Bedford, Massachusetts; thus taking Pier Fish to the next level of becoming one of the best purveyors of quality seafood in the United States. Pier Fish has also since become SQF certified.
Pier Fish Company has been the lead sponsor of DNB, Inc.'s Taste of SouthCoast Festival since 2007. Then, in 2009, The Barry Family, Pier Fish and DNB decided to carve out $1,000 of the sponsorship and dedicated it to create the New Bedford Seafood Industry Scholarship Fund, giving back to the hard working families who make their living on our waterfront. They encouraged other industry businesses to do the same. Some years we have had up to 5 scholarship awards and some years the one, but always could rely on Pier Fish to keep it going. Over the years 13 Students have benefited by this fund.
Along with DNB, Inc., some of the other non-profit organizations that the Barry's and Pier Fish have supported include: American Cancer Society, the Friendly Sons of St. Patrick, The Institute for Developmental Disabilities, Muscular Dystrophy Association, New Bedford Star Kids Scholarship, Wounded Warriors, New Bedford Police, Fairhaven Basketball, Prince Henry Society, U Mass Dartmouth Scholarship, Sister Rose House, Seamen's Bethel and SeaShare.
President's Recognition Award:
Albert J. Santos, President - Hygrade Ocean Products started in 1991 as a small, family-run business opening its doors on the New Bedford docks. Almost a quarter of a century later, Hygrade Ocean Products is still by the docks at 86 MacArthur Drive New Bedford, Massachusetts and is still owner-operated. They have grown over the years into a 33,000 sq. ft.state-of-the-art facility, with over 100 employees and growing.
DNB, Inc. thanks Hygrade for its sponsorship and participation at both the Taste of SC and the NB Seaport Chowder Festivals, and for bringing us The Black Whale, a first class restaurant adding to the vitality of our downtown and waterfront. We congratulate them on their success and are happy to welcome them back for their 3rd season. Al and Hygrade have for the past 10 years been a major sponsor of the United Way's annual Clambake. They also support the South End Youth Athletic Association (SCYAA), Healing Little Hearts, The Seamen's Bethel, and Prince Henry Society Grid Iron Club's Banquet.
Executive Director, Diane Arsenault, too this opportunity to thank the DNB, Inc. Board of Directors for their continuing dedication and support:
President: Kevin T. Pelland - BayCoast Bank. Vice Presidents: Arthur Bennett - Downtown Resident; David Medeiros – Bristol County Savings Bank; Jill W. White – Sylvia Group
Treasurer - Zee M. Bryant- Zee Associates. Clerk - Robert F Murray - Law Offices of Robert F. Murray. Directors: Nancy Cabral – Santander Bank; Kevin Carter – Carter's Clothing and Footwear; Ben Couto – Reynolds DeWalt; Keri Cox – mediumstudio; James Daniels, Dean – Bristol Community College; Kreg Espinola – Law Office of Kreg Espinola. Russell Kandalaft – Freestone's City Grille; Frederick Kidder – New Bedford Area Chamber of Commerce; Modesta Levesque - Standard-Times/Southcoast Media
Tara Pacheco - YMCA Southcoast; Shelly A. Perry – Lafrance Hospitality
E. Jeffrey Pontiff - E. J. Pontiff Real Estate & Whaling City Expeditions
Sally Spooner – Volunteer Photographer
| | Everyone also thanked Administrative Assistant Marianne Hodgson for her 25 years plus of service to the organization and wished her well in her retirement. |
| --- | --- |
---
ANOTHER GREAT YEAR FOR TASTE OF SOUTHCOAST
THE 10TH annual Taste of Southcoast on May 15 fed the hungry masses for another year.
"This was the best one yet." That's what we say at the end of every Taste of Southcoast.
And every year it's true. Every year Taste of Southcoast attracts more vendors who bring a greater variety of their specialty offerings. This event has become the opening act for New Bedford's summer of festivals. It was a great opening act indeed with a warm up performance by Miss Mass Outstanding Teen, Alyssa Maitoza, followed by a great performance by our own America's Got Talent Star, Samantha Johnson and her band.
---
---
---
Downtown New Bedford, Inc. is pleased to announce that once again BayCoast Bank will take the lead in sponsoring the Eleventh Annual New Bedford Seaport Chowder Festival on September 25th, from 12noon to 5 pm on City Pier 3, New Bedford's working waterfront. DNB's Executive Director, Diane Arsenault said "We are extremely excited by their sponsorship as it enables us to maintain the high quality of the festival while keeping the ticket price low. 'Chowderfest' continues to be an affordable family event".
With your ticket you are able to sample and taste the offerings from 25 area food vendors, many offering more than one sampling in the categories of Clam Chowder, Seafood Chowder, Kale and Specialty Soups and Stuffed Quahogs. All under an enormous tent nestled among the fishing boats docked at Pier 3 in New Bedford. Restaurants and caterers are being recruited to fill the 25 available booths. This event also has a component that we like to call "the spirit of friendly competition" culminating in awards decided by the votes of the attendees for "Best Of" in all the categories and the "Judge's Choice" Award will be decided by a blind taste test.
Restaurant applications to participate are available by calling the DNB office. There are also many sponsorship opportunities for companies who want great exposure to the 2,500 people who attend this event annually.
Outside the main tent will be smaller tents set up for food and drink vending that includes local beer and wines, soft drinks and mixed drinks. Area vendors will also offer, popcorn, homemade ice cream and desserts. Adding to the festive atmosphere throughout the afternoon are the annual YMCA Lobster Races. Young children will be entertained with craft activities organized by volunteers from the Global Charter School and fire truck rides on the antique engine courtesy of the New Bedford Fire Museum, and free photo both pictures from Ensemble Events
Live music will add to the fun and be performing all afternoon with plenty of room to sit and relax or get up and dance!
TICKETS are $15 in advance, $18 day of, $5 for children 6-12, free for 5 and younger. Tickets will be available at the DNB office, on-line through our web-siteand at many locations to be announced by early August. Call 508-990-2777 for information.